Spiral Stairs
Here at Southeast Rails in Hilton Head, SC, we will build your spiral staircase to your specifications. Our custom fabrications contain the highest quality and the most careful construction in the entire South East Region. Our product line covers the complexity of classic Victorian to clean commercial applications. So whether you want residential rails, or commercial construction, we pledge 100% excellence. Our passion for custom fabrication is what drives us to lead the construction industry, and provide the best possible product for you. There is no other design element that combines aesthetic beauty with the efficient functionality of a spiral staircase. Spiral staircases provide a beautiful accent for indoor or outdoor, commercial or residential applications. Please view some of our recent projects, take a look at what some satisfied clients had to say, and let us bid your spiral staircases.
Perhaps you're located on the other side of the country. Not a problem. Although we construct our custom fabrications here in Hilton Head, SC, we'll ship to anywhere in the United States.

Contact us for a free quote.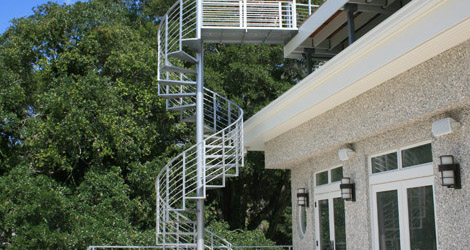 Authorized Dealer